OTC
Sejin Korea
Acme+ Whitening Mask 23g
Step 1 After washing the face, you need to put lotion on your skin.
Step 2 Open the pouch and make sure that the instant whitening mask is straightened out.
Step 3 Put it on the face tightly as fitting well in the face shape.
Step 4 After taking a comfortable rest about 15-20 minutes, remove the mask from the face
Step 5 To tap the remaining concentrate beauty essence on your skin.
Step 6 You can feel the more effects as using every day.
Delivery time is 3-4 days for this Product.
Know Your Product
---
(Vitamin B3, B5, E, C)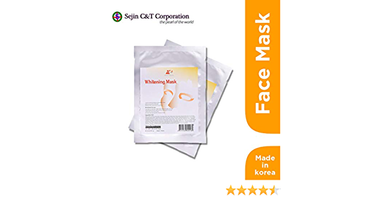 Acme+ Whitening Mask 23g