OTC
Brinton
Acmist Moisturizing Gel For Acne Skin
Acmist is oil free and non-comedogenic formulation specially formulated for acne prone skin, oily skin and sensitive skin.
Acmist is very light and gentle formulation that relieves dryness and soften skin. Acmist won't clog pores or leave a greasy "after-feeling".
Active moisturizing commplex ensures your skin to replenish its moisture balance and suppleness.
Acmist is a perfect partner for treatment of specific skin condition like acne.

Best Suited For:
Acne Prone Skin, Oily Skin and Sensitive Skin.
Delivery time is 5-7 days for this Product.
Know Your Product
---
C12-15 Alkyl Benzoate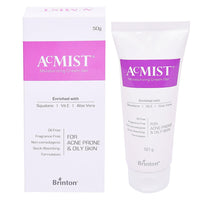 Acmist Moisturizing Gel For Acne Skin