OTC
Percos India Pvt. Ltd.
Epilite Lotion 40 ml
Size: 40ml
₹ 200
Epilite Topical Solution is used in the treatment of melasma. It is a skin-lightening medicine which lightens the darkened skin patches and spots(hyperpigmentation). It reduces the amount of skin-darkening pigment called melanin in the skin. It helps in reversible depigmentation of the skin
Delivery time is 3-4 days for this Product.
Know Your Product
---
Hydroquinone U.S.P 5% w/v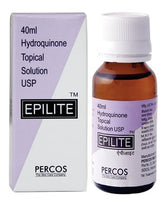 Epilite Lotion 40 ml