Prescription required
Dr. JRK's Research And Pharma. Pvt. Ltd.
Jrk's AF Cream 25gm
JRK's AF anti-fungal cream for fungal infections of skin Possess broad spectrum activity against dermatophytes Reduces itching and other fungal infection associated symptoms Dissolves stratum corneum and eliminates fungal adhesion Indications Fungal infections of skin. Usage Instructions Apply twice a day on the affected areas (OR) As directed by the physician. For external use only. Composition Contains oil extracts of Cassia alata : 1% Azadirachta indica : 1% Cream base : Q.S. Contra-indications There are no known contra-indications.
Delivery time is 5-7 days for this Product.
Know Your Product
---
Oil Extract of Cassia alata 1%, Azadirachta indica 1%, Cream Base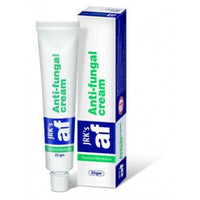 Jrk's AF Cream 25gm