OTC
Dr. JRK's Research And Pharma. Pvt. Ltd.
Jrk's Heal Fast 25gm
JRK's Heal Fast gel with hybrid wound healing technology Possess faster wound healing property Prevents secondary infections in diabetic ulcers Effective for minor cuts, first degree burns and urticarial No change in ingredients and therapeutic benefits. Studies done for Thee gel are also applicable for JRK's Heal Fast gel --Indications Diabetic ulcer and impetigo. Usage Instructions Apply gently over affected areas twice a day. Do not rub or massage. (OR) As directed by the physician. For external use only Composition Each 5 gm contains extracts of Wrightia tinctoria : 0.05 mg Aloe vera : 0.05 mg Curcuma longa : 0.02 mg Terminalia chebula : 0.02 mg Ointment base :Q.S. Contra-indications There are no known contra-indications.
Delivery time is 3-4 days for this Product.
Know Your Product
---
Each 5gm Contains : Wrightia Tinctoria 0.05%, Aloe Vera 0.05%, Curcuma Longa 0.02%, Terminalia Chebula 0.02%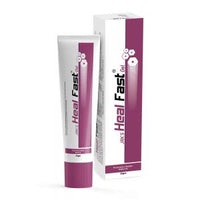 Jrk's Heal Fast 25gm