OTC
Dr. JRK's Research And Pharma. Pvt. Ltd.
Kesh Raksha Oil
Size: 100ml
Keshraksha oil based on the oil extracts of certain plants viz., Phyllanthus embelica, Bergera koenigit, Lawsonia alba, Indigofera tinctoria, Wrightia tinctoria, Hibiscus rosasinensis, Muraya paniculata, Terminalia chebula and Black catechu.
Delivery time is 5-7 days for this Product.
Know Your Product
---
Each 5ml Contains : Bergamia koenigii 50mg, Phyllanthus emblica 50mg, Lawsania alba 50mg, Indigofera tinctoria 75mg, Eclipta prostata 75mg, Oleum Cocos nucifera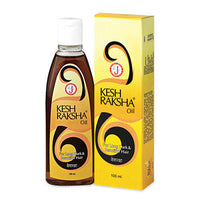 Kesh Raksha Oil