Prescription required
Percos India Pvt. Ltd.
Nexna - TX Tab 6x10 Tabs
Size: 10 Tabs
₹ 153
Nexna TX Tablet is used to treat bleeding. It helps to prevent or reduce bleeding in conditions like tooth removal, heavy periods, dysfunctional uterine bleeding, nosebleed and in any oral, prostate or bladder surgery.
Delivery time is 3-4 days for this Product.
Know Your Product
---
Tranexamic Acid I.P. 250 mg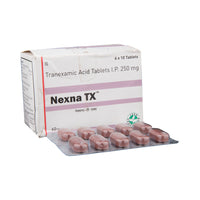 Nexna - TX Tab 6x10 Tabs