OTC
Nutri Life Pharma
Osteoboost Tablet
Osteoboost bot only helps build calcium reserve that helps in building healthy bones, prevent osteoporosis, helps in maintaining healthy pregnancy as well as many other health benefits for improving the quality of life.Osteoboost also helps cope up with muscle cramps, stress, fatigue, anxiety, insomnia and other such conditions resulting out...
Delivery time is 3-4 days for this Product.
Know Your Product
---
Osteoboost is a unique combination of the Three Essential Golden minerals, Calcium, Magnesium and Zinc.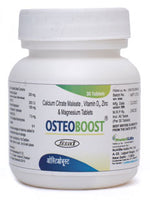 Osteoboost Tablet