Prescription required
Percos India Pvt. Ltd.
Paknet C Gel 15 G
Paknet-C Gel is a combination medicine that is used to treats acne. It minimizes excessive oil production, thus reduces inflammation. It also prevents the growth of the microorganisms that cause acne. This also helps to prevent pimples, blackheads, and whiteheads on the skin.
Delivery time is 3-4 days for this Product.
Know Your Product
---
Clindamycin 1% gel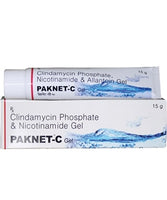 Paknet C Gel 15 G