OTC
Percos India Pvt. Ltd.
Paknet Creamy Wash
₹ 264
Paknet Creamy Wash is an anti-bacterial medicine used to treat acne. Acne appears as spots or pimples on your face, chest or back. This medicine works by attacking the bacteria that cause them.
Delivery time is 5-7 days for this Product.
Know Your Product
---
Hydrous Bezoyl Peroxide BP equivalent of Anhydrous Benzoyl Peroxide 4% w/w In a cream base q.s.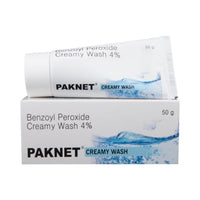 Paknet Creamy Wash