OTC
Percos India Pvt. Ltd.
Protar K Sol 100 Ml
Size: 100ml
Protar-K Solution is a combination of two medicines that effectively treat dandruff. It kills the fungi that cause the infection and relieves itching and irritation. It also removes dead skin cells from the scalp.
Delivery time is 3-4 days for this Product.
Know Your Product
---
Coal Tar Solution BP 4.0% w/v Ketoconazole IP 2.0% w/v Aqueous Base qs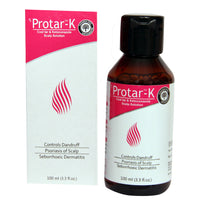 Protar K Sol 100 Ml