OTC
Sesderma
Sesderma Seskavel Anti-Hair Loss Mulberry Foam
Prevention and treatment of hair loss. SESDERMA presents the only anti hair loss product in the market based on nanotechnology. Seskavel Mulberry foam anti hair loss is designed for hair care, prevent and stop hair loss and stimulate growth.
Delivery time is 3-4 days for this Product.
Know Your Product
---
Curcuma longa, Morus alba, glycyrrhetinic acid, nicotinic acid, panthenol, zinc, vitamin B6, Retinyl propionate, L-carnitine.
What our Doctor's say about this
---
| | |
| --- | --- |
| Safety | |
| Result Speed | |
| Value for Money | |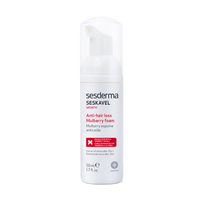 Sesderma Seskavel Anti-Hair Loss Mulberry Foam