Prescription required
Dr. JRK's Research And Pharma. Pvt. Ltd.
Siva Drops 30ml
Size: 30ml
S.I.V.A Herbal Drops contain Indigofera aspalathoides, Celastrus paniculatus, Corollo carpus (Bryyonia)epigaeus, Cinnamomum camphora and Solanum tribolatum. It is one of the "Specialist" drugs to boost the immunity. It is first among such drugs prepared using oil as the vehicle cum adjuvant for effective delivery of the drugs.
Delivery time is 3-4 days for this Product.
Know Your Product
---
Each 30ml Contains: Indigofera Aspalathoides 125mg, Celastrus Paniculatus 25mg, Corollocarpus Epigaeus 125mg, Cinnamomum Camphora 125mg, Solanum Trilobatum 10mg, Oil Base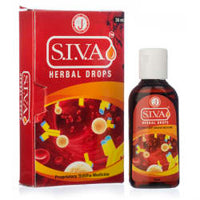 Siva Drops 30ml