Prescription required
Percos India Pvt. Ltd.
Ultiderm Lotion 50 Ml
Size: 50ml
₹ 365
Ultiderm Lotion belongs to a group of medicine called steroids. It is used in the treatment of skin conditions associated with inflammation and itching. It provides relief from swelling, redness, and itching in the affected area.
Delivery time is 5-7 days for this Product.
Know Your Product
---
Flucinolone Acetonide : 0.01% in Refined Peanut Oil Base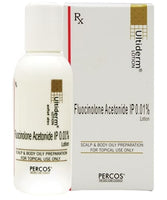 Ultiderm Lotion 50 Ml