Prescription required
Dr. JRK's Research And Pharma. Pvt. Ltd.
Verdura Melapro Cream 35gm
Verdura mela pro cream for vitiligo – Topical Psoralen cream for vitiligo treatment Increases the susceptibility of skin to UV rays. Kindles genetic memory of the skin to produce melanin in Vitiligo. Proven to be hypoallergenic and safe for long term use (Skin irritation study in human volunteers) Indications Vitiligo and hypopigmentary disorders Usage Instructions Apply Verdura mela pro cream on affected areas as Pretreatment product in the morning. Expose to Sun light for 5 minutes or use UV light / PUVA therapy under medical supervision. Wash the skin and pat dry. Caution: If any skin damage is observed stop using and consult physician. It can be used concurrently with other active treatments, for Vitiligo. Continue regular use of Verdura Mela pro cream to enhance the effect of sun. (OR) As directed by the physician. For external use only Composition Psoralea corylifolia Contra-indications There are no known contra-indications. Pr
Delivery time is 3-4 days for this Product.
Know Your Product
---
Psoralea Corylifolia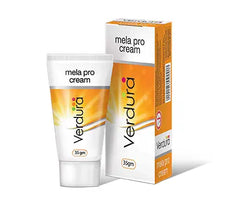 Verdura Melapro Cream 35gm